>††May 31,
Congratulations!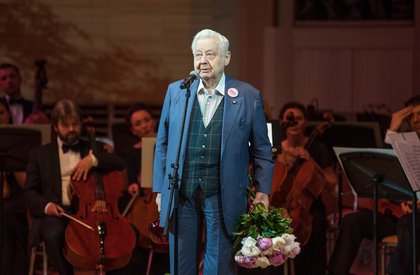 Congratulations to†
Oleg Tabakov
and
Igor Mirkurbanov
, the recipients of†Oleg Yankovsky Creative Discovery Award. The award, established in†2010, is†presented annually as†part of†the Chereshnevy Les Open Arts Festival. Oleg Tabakov, awarded for his performance in†the
The Jeweler's Jubilee
production at†the Chekhov Moscow Art Theatre, became the first two-time recipient of†the award (three years ago he†received the award for the first time for establishing Tabakov Theatre Arts College).
>††May 31,
Karenin cancellation on†May 31
The performance of†Karenin, originally scheduled for May 31†at†the New Stage, has been canceled due to†the sickness of†a†company member. †Patrons are requested to†return their tickets to†our box-office for†a†full refund until June 4.

Please accept our apologies for the inconvenience.

For additional information please call +7†(495) 646-3-646†or†+7†(495) 692-67-48.
>††May 30,
Oleg Tabakov to†Marina Davydova
From: Oleg Tabakov
Producing Artistic Director
Chekhov Moscow Art Theatre

To: Marina Davydova
Head of†Drama Department
Wiener Festwochen 2016

Marina,

I was in†Vienna to†witness an†important event in†the life of†our production of†An Ideal Husband and in†the life of†the Moscow Art Theater of†recent years. It†is†not just a†success, but an†insightful success that reinvigorates us†to†carry on†our duty and to†keep on†going our way. We†have had some issues in†the recent past, and we†have had different views on†certain things. We†have acquired some common opponents among theatre glossators. This festival and our performances in†Vienna set a†milestone in†our relations. It†has happened largely thanks to†your artistic will, and it†happened in†one of†the most important centers of†European culture. Things like that are not to†be†forgotten. Thank you on†behalf of†the Moscow Art Theatre and, of†course, from me†personally. I†saw it†myself, I†heard it†myself, I†felt it†myself, and I†rejoiced.

Yours,
Oleg Tabakov